Vertical Shaft Impact crusher (VSI Sand Making Machine) uses a unique rock on rock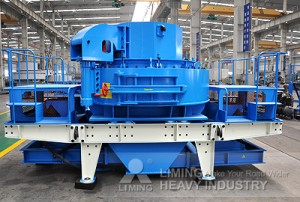 crushing method employing a high speed rotor with crushing chamber of the equipment. Velocity is applied in Vertical Shaft Impact crushers as the resulting force, to break stone particles. While applying velocity rather than surface force the breaking force to be applied evenly on the surface of the rock. In Vertical Shaft Impactors material to be crushed hit the other similar covering materials at very high velocity, simultaneously the same crushed particles come in collision with another particles frequently. The feed particles again acquire the velocity with he high impact of the kinetic energy of each other. The particles crack and crush under their mutual hit and force.
Vertical Shaft Impact crusher(VSI Sand Making Machine) gives perfect shape of final product. With the help of VSI crusher fine and course material production becomes easy and convenient . The output size in fine or coarse aggregates can be controlled by adjusting velocity of the input material and the distance between the end of the rotor and the impact point. The final output is cubicle in shape. VSI type of crusher is appropriate for materials with high abrasive property and silica content.
Vertical Shaft Impact crusher(VSI Sand Making Machine) consumes less energy to operate. VSI is equipped with double pump oil lubrication system and work on stone to stone crushing theory so the wear of components is minimum hence lower maintenance results lower operating cost in comparison to other similar stone breakers. It is easy to use due to simple operation mechanism.
Technical Data:
Model

VSI7611

VSI8518

VSI9526

VSI1140

Capacity (t/h)

Center and Ring feeding

120-180

200-260

300-380

450-520

Center feeding

60-90

100-130

150-190

225-260

Max Feed Size (mm)

Soft material

<35

<40

<45

<50

Hard material

<30

<35

<40

<45

Rotation speed (r/min)

1700-1890

1520-1690

1360-1510

1180-1310

Power for double motor (kW)

110

180

264

400

Overall Dimension L×W×H (mm)

4100×2250

×2285

4140×2280

×2425

4560×2450

×2780

5100×2690

×3200

Weight (t)

7.8

10.3

16

25.6

Power Source

380v 50Hz

Vibrating Sensor

Inspect scope: 0.1-20mm/s adjusted continuously

Lubrication hydraulic pressure station

Power for double oil pump

2×0.31kW

Safety

To make sure the supply of the oil with double oil pump; stop working without oil or hydraulic pressure; temperature falls when the water cools; start the motor by heating it in winter.

Overall dimension




LxWxH(mm)

820x520x1270

Power for oil box heater

2 kW
Notice: Any change of VSI Sand Making Machine technical data shall not be advised additionally.