Product introduction:
LM vertical roller mill is an energy-saving mill equipment combining mature vertical mill technology, foreign successful experience and our company's technological innovation and upgrade. It integrates crushing, drying, grinding, grading and conveying. It can be widely used in cement, electric power, metallurgy, chemical industry, non-metallic mines and other industries.
Application range:
Sand and stone stockyard, concrete mixing station, dry powder mortar, power plant desulfurization, quartz sand, etc.
Material:
Limestone, calcite, dolomite, barite, talc, gypsum, bentonite, etc.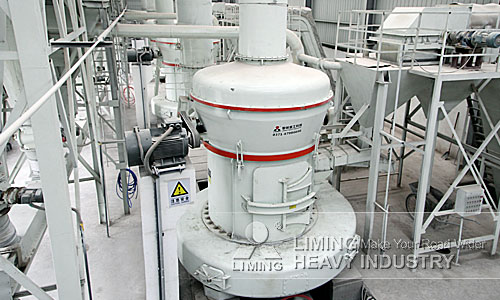 Outstanding advantages
Outstanding advantages
1. Low operating cost
High efficiency: the grinding roller directly crushes the crushed material on the grinding disc, and the energy consumption is low. Compared with the ball mill system, the energy consumption is saved by 30% to 40%.
Less abrasion: The grinding roller does not directly contact the grinding disk during work, and the grinding roller and the lining plate are made of good quality materials, so the service life is long and the wear is less.
2. Stable product quality
(1) Due to the short residence time of the materials in the mill, it is easy to detect and control the product particle size and chemical composition, reduce repeated milling, and stabilize the product quality.
(2) The iron content in the product is very small, and the mechanical wear iron contained is easy to remove. When used for grinding white or transparent materials, the product has high whiteness and clarity.
3. Low investment cost
Due to the integration of crushing, drying, grinding, and grading conveying, the system is simple and compact in layout, covering an area of ​​about 50% of the ball mill system, and can be arranged in the open, so it can greatly reduce investment costs.
4. High drying efficiency
The hot air flowing into the mill from the outside directly and fully contacts the powdery materials in the mill, and the drying capacity is strong. It can save a dryer and energy for the mill system. By adjusting the temperature of the hot air, Can meet the requirements of different humidity materials.
5. Easy operation and maintenance
(1) Equipped with automatic control system, which can realize remote control and easy operation.
(2) Equipped with a limit device to prevent direct contact between the roller sleeve and the grinding disc liner, avoiding damaging impact and severe vibration.
(3) By repairing the oil cylinder, flipping the boom, replacing the roller sleeve and lining plate, it is convenient and quick, and reduces the loss of downtime.
Low vibration, low noise, and the whole equipment is sealed, the system works under negative pressure, no dust overflows, the environment is clean, and it meets the national requirements.