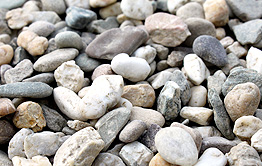 PEBBLE CRUSHING & PROCESSING
Pebble is a natural stone from the sand mountains generated by the uplift of the ancient river bed which has experienced the earth movement thousands of years ago. They have gone through the impact of the flash floods and the continuous extrusion, friction in the water movement. They were beat by wave and water again and again. Finally, they were buried deeply in the ground for thousands and millions of years.
PEBBLE PROCESSING
Pebble is hard, but the silicon content is very high. Therefore, the design of crushing process is required to be reasonable. We should consider the production cost as well as the investment cost for the pebble crushing line. The losses of jaw plates, hammer and impact plate are very high in the the pebble crushing. So we mainly choose the crushing plant with laminated principle in the crushing line to reduce the losses of the wear parts. The classic equipment configuration with laminated principle is secondary jaw crusher or jaw crusher plus cone crusher. If the clients have higher request for final products shape, the impact crusher can be used for reshaping. Thus, three stage crushing process configuration is formed. Three stages crushing will inevitably lead to a higher investment cost. But for the long-term operation stones factory, three stages crushing will be very substantial to the production cost reduction. For the material like pebble, which is hard to crush, the two stages crushing with jaw crusher and impact crusher can also be used. But something should be noticed, the two stages crushing with jaw crusher and impact crusher will inevitably lead to the loss of impact crusher hammer. The life of the hammer will be shorter and the proportion of the material that need to be re-crushed will be higher.

PEBBLE APPLICATIONS
Pebble is the by-product in sand mining. It is a kind of natural stone, which have gone through thousands years of squeezing, friction in earth movement and being carved by river. The main component of pebble is silica. Also there is a small amount of iron oxide and trace amount of manganese, copper and aluminum elements and compounds. Pebble is hard in quality and has good resistant to compression, wear-resisting and anti-corrosive. It is an ideal green building material and widely used in construction and road building industry and so on. In public buildings, villas, garden buildings, paved roads, parks rockery, bonsai filler, river pebbles, garden art and other senior superstructure, it not only carries forward the ancient oriental culture, but also reflects the Western classical, elegant, artistic style of getting back to basics. Pebble provides high-quality materials for water purification, sewage treatment, electricity, garden and so on. Also it provides raw material or auxiliary materials for ceramics, precision casting, papermaking, abrasion, chemical, monocrystalline silicon, defense and so on.