LUM series superfine vertical roller grinding mills can be widely used to process the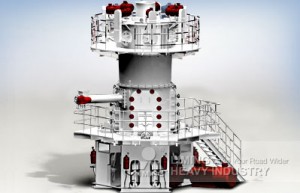 superfine dry powder of none-metal ores such as calcite, marble, limestone, coarse whiting, talc, barite and dolomite and so on.

Technical Data:
Model Specification Name
LUM1125X
LUM1232X
LUM1436X
Intermediate diameter of the millstone (mm)
1100
1200
1400
Quantity of the rollers(piece)
3
3
3
Granularity of the feeding material D90(mm)
< 10 Max. 15mm
< 10 Max.15mm
< 10 Max.20mm
Moisture of the feeding material
< 3%
Capacity (t/h)
5~14
7~16
9~18
Fineness(mm)
Generally in 0.045-0.02, the finest can reach 0.01.
Power of the main motor(KW)
250
315
355
Power of multiple powder concentrator & quantity
15KW×5
15KW×7
15KW×7

Note:Any change of technical data shall not be advised additionally.